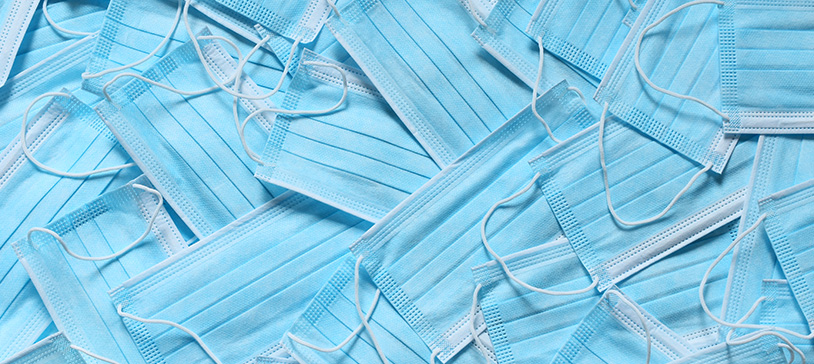 How schools are coping and adjusting.
In what can only be considered the oddest period of time in modern history, many of the issues are falling square in the lap of academia. Not only are we dealing with the physical wellbeing of all of our stakeholders, but the health of students and faculty have become paramount.
Terry Flannery, PhD and Interim Vice President for Marketing and Communication at Stony Brook University says that schools are stepping up to the challenge. Efforts around safety protocols allow her to have no issue with students being back on campus. However, concerns about how students are handling the pandemic and upheaval are top of mind.
"One thing that has come through loud and clear from our students is how isolated and disconnected they feel. They are yearning to have more in-person classes and connections," Flannery says.
And while Stony Brook has demonstrated that they can maintain a safe campus environment, they want to encourage more faculty to offer their spring courses for in-person or hybrid learning. "We know that the country is facing another wave of cases, so we may have to retrench for a period," says Flannery. "When that has passed, our students desperately need us to be here for them in person."
The mental side effects of the pandemic have yet to be chronicled completely. But, higher education professionals around the country have a courtside seat to the impact on their students. They do not need a research study to tell them that kids today are hurting and that the platform and structure of college can be downright cathartic right now.
Flannery tells us that Zoom has offered a chance for students to engage and connect with faculty and that has anecdotally created some emotional support. She speaks of how the Stony Brook VP for Student Affairs, who teaches a master's program course, asked his class what he could do to improve the course. The students unanimously agreed that they wished he would open the Zoom link 30 minutes before class, or leave it open 30 minutes after, just so they could interact with their classmates informally. This simple idea drives home the fact that a generation of students is longing for connection and that they need to lean on their schools.
The effects of the pandemic on our community's mental health is paramount. Ramping up things like telecounseling is a great example of how to support the student body. Internal marketing programs that make sure that students are aware of all of the available resources and support programs in short order.
Part of the solution to the mental health issues comes from proving the safety of your school. The ability to operate safely in-person instills confidence in both students and faculty, which mutually feed off of one another. Flannery is thrilled that due to Stony Brook's surveillance testing, consistent guidance on masks, social distancing, and de-densifying spaces from classrooms to residence halls to offices, they have been able to operate in-person for 13 weeks. She proudly states, "Our positivity rate is far lower than the surrounding areas. It turns out being on campus is safer for many of our students than if they were in their home communities."
Most campuses across the country, large and small, have adapted by installing new best practices around safety. These include items like required testing before arrival, frequent surveillance testing and contract tracing, ample isolation and quarantine space, and empowerment of the students to follow guidance and encourage their peers. Flannery reminds us, "They want to be here. They don't want anyone to compromise that."
The Healthy Way
Lisa Snedeker, Director of Communications and Marketing for the Norman Adrian Wiggins School of Law at Campbell University, is proud that they have remained primarily in-seat throughout the fall semester. She says, "The majority of our first-year class has been in the building taking classes as well as many of our second- and third-year students. Only students who are not feeling well, didn't pass the health assessment, or are compromised or live with someone who is compromised are allowed to tune into class virtually."
According to Snedeker, "All of our students, faculty and staff are required to do a daily health assessment. We have digital thermometers on stands at each of our building's entrances so your temperature is checked when you enter and we have tripled the number of hand sanitizer stations throughout the building."
Schools have been remarkably diligent in their efforts to keep people safe. However, they know that their primary focus is the personal growth of those same individuals. As Flannery explains, "We're in the business of human development, and that happens through the magic of many powerful human encounters. The interactions with peers, faculty and staff—both formal and informal—are fundamental to student development, and cannot easily be replaced by remote interactions."
The passion that educators have for supporting and inspiring will never disappear. That is what makes everyone come alive on campus. And while many of the professors are teaching behind plexiglass and everyone is required to wear a mask at all times, connecting with other students and faculty is critical to both the students' wellbeing and their long-term growth.
The school's desire to impact lives is what dominates their minds. Flannery says, "We want to see faces—all of them. We need students on the quad, fans in the stands at Homecoming, parents and families at Commencement, and an inauguration ceremony for our new president. I want us all to return to the rituals and rhythms of normal life in higher education, as soon as possible."
Snedeker adds, "I am not sure about it all, but I can say that all of the measures we have put in place have made me feel comfortable working on campus." And now that schools have adapted, it is time to soar.
---
The authors and publishers of this content are not engaged in the rendering of professional advice or services including, without limitation, legal or regulatory advice or services. Individuals and organizations should perform their own research and conduct their own due diligence concerning the products and suggestions discussed in this article or the advisability of a particular solution as it relates to regulatory and statutory compliance.