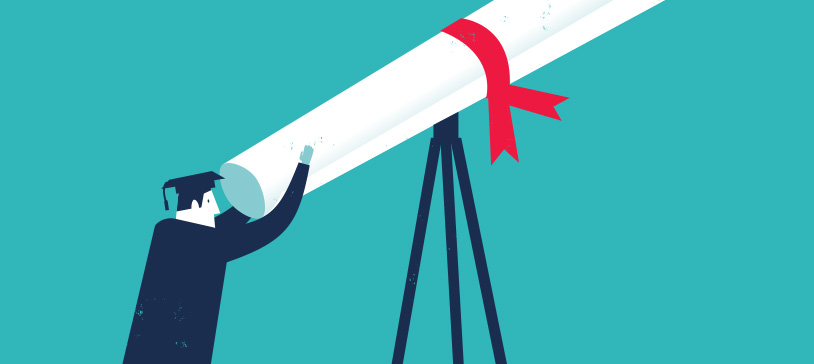 Kaplan University's Brandon Busteed on the ROI of Higher Ed
As more of today's higher education facilities seek modernization efforts, the two biggest drivers are a desire to increase the level of operational efficiency and to support the university's digital transformation. According to Gartner's "Insight to Initiate Your Legacy Modernization in Higher Education" study, the majority of schools prefer to optimize or improve existing business models to grow revenue or reduce the complexity of operations. Here are the top reasons schools modernize their core IT systems.
Brandon Busteed has spent the majority of the past 20 years canvassing the world of higher education. From his work as the founder and CEO of Outside the Classroom to a senior partner at Gallup, Busteed's keen educational insights have served as a widely respected voice for the industry at large.
Today, as President/University Partners at Kaplan North America, he is helping leverage the institution's assets across the higher ed spectrum. On any given day, he oversees international student recruiting, pathway programs, student residence development, online program enablement, university hosting, professional education, test preparation, learning platforms, assessment capabilities and supplemental course content.
We sat down with him to get his thoughts on how today's higher education marketers can better gauge the ROI of their endeavors.
What are some of the challenges marketers have in selling the ROI of higher education?
Higher ed is facing its strongest headwind ever. Public perceptions have declined considerably in the past half decade. For example, among young adults (ages 18-24), the importance of college has dropped nearly 50% in just six years. Americans are primarily concerned about two things: the price of college and the work readiness of graduates. Anything a university can do to emphasize transparency in cost—to point toward smart cost management, to emphasize the relevance of what it teaches and how it prepares students to be successful in the workplace—are key messages that will resonate for most of the market. Everyone is aware of the coming crash in the college-going population age demographic in 2025, but it has already begun for other reasons. Institutions cannot react fast enough.
What are some of the solutions to overcoming these challenges?
They go far beyond marketing messaging. Colleges and universities must move aggressively toward putting "career at the core," so to speak. Among the major steps that will move the needle include ensuring every student (not just a few) graduates having had long-term projects that took a semester or longer, a job or internship, or co-op experience that was integrated into the academic learning and help students leave with high-value industry-recognized credentials.
I am doing a lot of work helping universities launch Credegree initiatives. It is a blend of the words "credential" and "degree." The goal is to ensure graduates leave with both a bachelor's degree and an industry-recognized credential. Instead of a major and a minor, it is a degree and a credential. Like an English major who is a Certified Ethical Hacker. This is a big-time winning combination in the employment market.
How is marketing higher education changing? What's driving these changes?
The classic messages about the value proposition of college are not resonating as much. The fight for traditional-aged students is getting more competitive each year. The only answer to these trends is to push the talent identification and recruitment process further upstream. That means providing high-value, experiential marketing for middle school and early high school students. It also means finding new routes to the adult education market through employer-based partnerships. It means thinking about breaking out of the degree-only mindset and thinking about marketing more non-degree educational opportunities.
How do universities measure the ROI of higher education?
I sometimes joke that universities have studied everything except themselves. But there is some real truth to this. For as much as we think about conducting rigorous research in our labs, etc., higher education can be better at assessing its own learning outcomes for students. We are still in the Dark Ages of proving our value proposition.
For example, the most common words in college and university mission statements are "lifelong learning," yet I'm hard pressed to find any solid evidence that graduates are more likely to be lifelong learners. The economic data on earnings for bachelor's degrees still holds up over the long-run, but it is not as convincing as it was in the past.
When you understand that tuition has increased 393% since 1990, while median earnings for bachelor's degree holders is actually below 1990 levels, you realize that something is broken or on the way to being broken very quickly. We have a lot of work to do on ROI. The most important steps we can take are to reduce costs (not just add more aid) and improve the relevance of what is taught by building work-integrated learning into the academic core of higher ed.
From a marketing standpoint, what is the best thing students get from completing a higher education?
A degree still has value. But if it does not come with practical work experience and lots of applied learning, we miss delivering on what Americans want most from higher education—which is a good job. This is not mutually exclusive to our goals of teaching graduates to be engaged citizens, critical thinkers and lifelong learners. We need to do both.