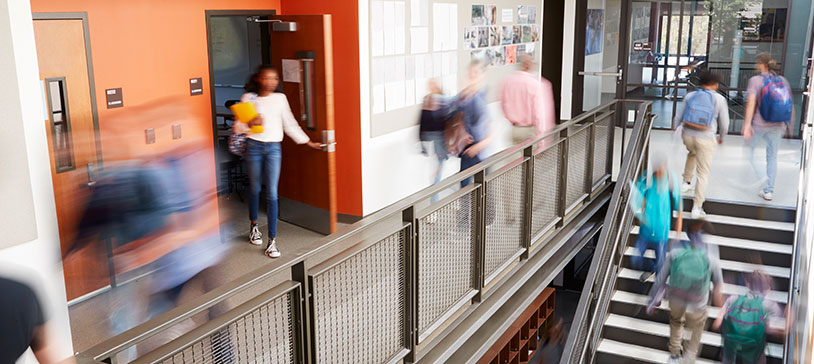 Maryville University's Steven Mandeville on Higher Ed's Revolution
There are no typical days when it comes to facilities planning on today's college campuses. We know because we asked. That kind of unpredictability is one of the reasons facilities managers love what they do. It is one of the reasons they cling to the dependability of their calendars, and encourages them to always seek out new and better ways of doing things.
Today's universities must operate like a business. That is the CPA in Steven Mandeville talking. Before joining Maryville University in 2010, he worked with the national CPA and advisory firm BKD, and served as treasurer and chairman of the finance committee for the Jack and J.T. Snow Scientific Research Foundation.

Today, as VP for Finance and Facilities for Maryville University, he is tasked for the day-to-day responsibility of monitoring and reporting all of its financial activities, overseeing the Finance department, Information Technology, Facilities Management and Planning, and Human Resources.

As Mandeville attests, today's universities must be better at analyzing costs across the institution. More than anything, he believes that university leaders must have the courage to evaluate, limit or eliminate academic and non-academic programs if they are failing financially—and hold everyone accountable.

We sat down with him to get his thoughts on the best practices for running a campus.
What are the biggest challenges of running a campus?
Higher education is in the midst of a revolution. The old, traditional model of running a campus is no longer sustainable so universities must adapt and change their approach. Higher education is having to reinvent itself to be relevant and important, which does not just apply to curriculum and pedagogy, it requires a rethinking of financial management and operations. Technology is changing almost daily, and the way we do our jobs is evolving at a pace we have not seen before.
Blockchain, artificial intelligence, machine learning, virtual and augmented reality (AR) in the classroom, and digital employees are all new technologies impacting higher education. Being nimble and operating more like a business is key to the long-term viability of any institution moving forward.
One of Maryville University's biggest challenges is managing growth and expectations in an environment that is becoming more competitive. We need to ensure we manage growth in a way that is sustainable and scalable. That means analyzing all areas of our business to handle growth effectively, from streamlining processes to looking for new ways to do business. We must relentlessly innovate and adapt.
Another challenge is the sequencing of big and resource-intensive projects to achieve our strategic plan. We have many competing priorities that, while important, are not all equally important to serving the needs of our students now or in the future.
In my position as VP for Finance and Facilities, one of the biggest challenges is managing our community's expectations. Gone are the days when you could develop and announce a multi-year master plan, and then adhere to it. The shifting landscape of how students learn, with technology at its center, requires constant reassessment of capital projects, investments in technology, and a fluid approach to the investment strategy behind such projects.
At Maryville, aligning funding with strategic initiatives and working toward the greatest return on those investments, with constant reassessment, is one of the most important shifts in our leadership approach.
What has changed the most over the last few years?
The speed at which change happens, especially as it relates to technology. Digital transformation is in almost every conversation we have strategically. We are always asking how we can adapt and run the university more efficiently.
How do you combat people questioning the value of higher education?
The flexibility in how students can access education is compelling. Now they can continue to work and pace their education in a way that fits into their lives. It recognizes myriad entry and exit points for each student so that they can fit higher education into their financial, professional and personal time-frame.
Maryville's 97% career placement rate is also a strong value proposition. We must continually rethink and adjust our approach to making higher education relevant, offering new programs that are responsive to industry needs. Universities must create a learning ecosystem with students at the center, meeting them where they are on the learning spectrum. This ecosystem should consist of a student learning outcome model rooted in data analytics and tailored to the strength of each student's learning experience. The learning must be hands-on and collaborative, with technology built into every course so that when they enter their careers, they are ready on day one.
As students and parents become more cost-conscious and knowledgeable, it is imperative for colleges and universities to justify their costs and provide a compelling return on investment. As such, colleges will need to analyze their costs and develop pricing that makes sense to the constituents it serves, while generating a profit margin to be sustainable.
What are some key ideas around operating efficiently?
Universities must operate like a business. They must analyze costs across the institution. Also, university leaders must be ready and have the courage to evaluate, limit or eliminate academic and non-academic programs if the numbers are not satisfactory to meet the expenses incurred to operate them. As we promote value and return on investment to our students, we must also analyze our business plan and apply these same principles.
Typically, the biggest expense to a university is labor. We must seek ways to be more efficient and digitally transformative through artificial intelligence and automation. In our digital world, the services we provide to our students do not always require human interaction. In today's consumer environment, students are able to access nearly everything conveniently online, from shopping to banking. As such, they should be able to do most university transactions online with the convenience of everything being accessible on a mobile device.
Maryville has achieved greater operational efficiency by thinking and acting less like a university and more like a business. We are using technology to cut costs. We are streamlining every process. As a result, we are leaner and more nimble. Being able to move quickly is a competitive advantage. Typically, in higher education, it takes months or even years to create new curriculum or degree programs. This is inefficient, and results in lost time and valuable resources. You need to have a process in place to constantly analyze the market as well as emerging trends and careers. But most importantly, you need to move quickly once that analysis has been completed. You need to fail fast—take action, learn from your successes and failures, and move forward.
Share something you have learned over the past few years?
Concern over the rising cost of higher education has become a hot topic. It seems to be a continual source of news and national discussion today. The cost of higher education has well outpaced that of inflation. As competitive pressures increase and become more severe, colleges and universities will be forced to change their business model, or risk declining enrollment, financial shortfalls and, ultimately, the risk of closing its doors.
As I noted before, students and parents are more cost conscious about higher education. Related, colleges are finding that increasing tuition is becoming less elastic than in previous years and is impacting the demand for higher education.
The old model is broken and must be changed. In the past, universities have ignored basic business principles. They have continued to raise tuition to cover expenses. No consideration was given to operating efficiently, cutting expenses or making education more affordable to its customers. With increased competition, declining demand based on demographics and the public's questioning of the value of higher education, universities are forced to change or risk going out of business.
The importance of moving quickly, being nimble, flexible, sequencing, agile decision-making, not being afraid to pilot and failing fast are all imperative to success and long-term viability.