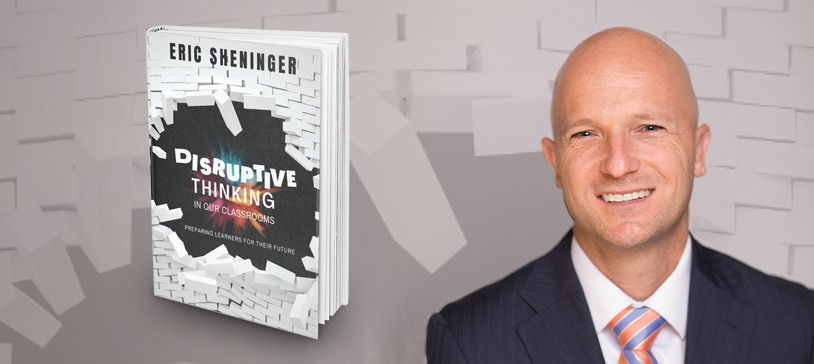 "Disrupting Thinking" author discusses new landscape
Eric Sheninger, author of "Disruptive Thinking in Our Classrooms," works with schools throughout the world helping educators meet and exceed their potential to improve outcomes for learners. Prior to this, he was a teacher and the award-winning principal at New Milford High School. Under his leadership, his school became a globally recognized model for innovative practices. Eric oversaw the successful implementation of several sustainable change initiatives that radically transformed the learning culture at his school while increasing achievement. His work focuses on innovative and practical ways educators can transform teaching, learning, and leadership.
Can you tell us why the book was so important to write?
The world has and continues to change in ways that are difficult to predict. All one has to do is look at the combined impact of the pandemic and the 4th Industrial Revolution. Regardless of the forces at hand, educators play a pivotal role in preparing students for success now and in the future. We can't prepare students for their future if we are stuck in the past.
Can you share why disruptive thinking empowers learners?
If we are to develop students who think disruptively, we must examine and reflect on our current teaching and learning practices. We, too, must become disruptive thinkers, which I define as: Replacing conventional ideas with innovative solutions to authentic problems. It's time to challenge the status quo when it comes to teaching and learning in our classrooms. Our learners—and their future in a bold new world—depend on it and us.
How do we future-proof learning in order to prosper in an ambiguous world?
Exponential change is the new normal. To adequately prepare students, the key is to future-proof learning, so they are always ready for whatever faces them. While this might seem like a stretch or even impossible, I assure you it's not. Here is how to begin:
Develop higher-order thinking through scaffolded questions and tasks
Authentic application of knowledge and concepts in connection with real-world problems
Purposeful use of tech, driven by the learner
Equity and cognitive flexibility through personalization
Learning environments that reflect current (and future) contexts
How do teachers need to meet the unique needs of all students?
If all kids are doing the same thing the same way at the same time, that results in an inequitable experience. While it might seem fair and equal if every student is blanketed with the same direct instruction or have access to a device, it should not be assumed that there is an inherent benefit. There is a great deal of research and evidence out there that tells us people learn differently, and eventually, success relies on a vast spectrum of strategies.
A move to a more personalized approach can begin to pave the way for a more equitable classroom and school culture. It relies on the premise that all kids get what they need, when and where they need it, in order to develop into competent learners.
You mention "outlier practices" in your book. Can you tell us what that means?
Many practices in education can fall into the outlier category and they are either overused, underused, or ineffective, and that can either make or break a student's experience. They are as follows:
Grades
Zeros
Homework
Feedback
Reflection
Outlier practices, depending on how they are implemented, can either promote or inhibit disruptive thinking. The main takeaway is how they are implemented in ways that support or enhance learning while helping to build powerful relationships in the process.
Are you bullish on the future of learning? Why?
Heck yeah, I am bullish! We continue to learn from disruptive forces even if they create a great deal of stress at first. Often, change is what many of us need the most, yet we don't know it at the time.