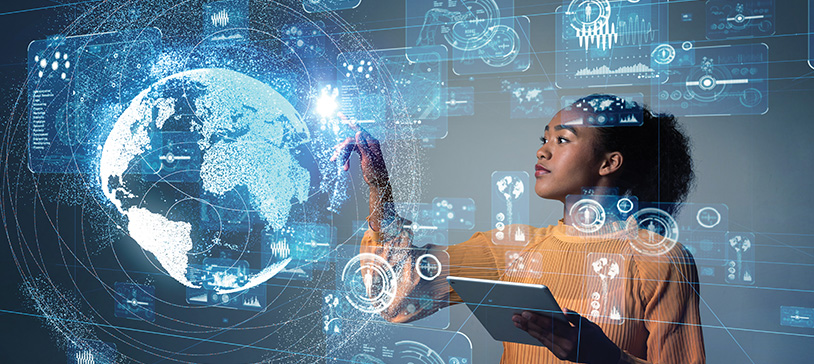 Leading within a landscape of change
Create space for others.
When it comes to leadership, Lauren Collins believes that this is one of the most important tenets in your foundational structure. As a leader, you must be intentional about bringing others into the conversation. And because people communicate in different ways, Collins, Chief of Staff at the international design and consulting firm IDEO, believes you should be inclusive of various styles and formats, especially on the higher education level.
At a time when everyone is trying find to make sense of things after and purpose in a historic global pandemic, Collins says leadership is about vision: having it, inspiring it and creating the right conditions for it to be realized. And, more than anything, it is important to note the difference between leadership and management. Management is about getting things done, while leadership is about turning vision into reality. If you are not creating and catalyzing change, you are not leading.
"Leadership is about creating an inclusive environment where others can thrive," says Collins, who as a member of IDEO's global executive team, helps operationalize leadership decisions by surfacing, aligning and facilitating the decision-making process among the group's leadership. Her leadership acumen was carved out at General Mills, where she spearheaded the brand's consumer research and prototyping in more than a dozen countries, including China, Brazil, France, and Australia.
What Collins believes spaces like higher education need to do is to continue to practice the art of inclusion, which if done properly, makes everyone feel like they are part of the process. "That's important for many reasons, but especially for leaders," she says. "You want people to be able to do their best work and their best learning. And they can't do that if they are overly focused on how they don't fit into that room or conversation."
When it comes to leadership today, Collins says soft skills are the new power skills. Leaders who have them are the ones who have been most successful over the past 24 months—a time where many people's lives were completely flipped upside down and inside out because of the pandemic, among a variety of other issues.
While soft skills often are overlooked, Collins believes they are critical to creating trust, strengthening culture and bringing in the different voices that help provide inclusion. Having soft skills like vulnerability and humility go hand in hand with human-centered leadership.
To succeed at the highest level of leadership, she believes that leaders must be able to meet people where they are—and sometimes that means admitting you do not have all the answers. "At times, you have to step aside and let others take center stage. As a leader, you don't need to be perfect. These soft skills play a large role in building and maintaining trust."
At the higher education level, where many schools are incorporating the worlds of hybrid learning—onsite and online—mastering these skill sets will be critical to finding the right balance. For example, IDEO continues to prototype itself through the remote landscape as the needs of its employees, leaders and clients constantly change.
"We've evolved to a hybrid state of working to make the most of both in-person and remote working. In-person working allows for serendipity and randomness in a way our culture truly values," Collins says. "And remote working allows us to team client projects with the most desirable talent across the company—regardless of geography. We encourage our employees to try new ways of working and new technologies and have teams of leaders focused on patterning up what should be scaled and what should be retired."
Using history as your guide
Few universities have a history as captivating and eclectic as the Rochester Institute of Technology (RIT). Created from an unlikely institutional marriage of an influential cultural association, the university's progressive vision and uncommon ambition continues to place it at the forefront of the academic world.
As RIT's VP for Enrollment Management and Associate Provost for RIT Certified, Ian Mortimer has a front row seat to the university's continual evolution of offerings in both for-credit and non-credit experiences. Because of its progressive nature, it has always been comfortable in being aligned with the needs of the external environment.
In today's pandemically defined landscape, Mortimer says that relevant leadership yields an understanding of options, which most likely do not consist of incremental change. If your institution is wealthy, incremental change is probably good enough, but far from protecting. If your institution relies on the market paying the majority of your operational cash flows, there is little doubt that some form of transformative change in value definition is required.
"Adaptive leaders think and innovate in between current structures: Structures based on time, singularity of curriculum, costs, etc.," Mortimer says. "They have to make sure their institution is graduating students at the highest levels possible."
Mortimer says RIT has identified positions that add value to the consumer and ensured that students do not lose value due to a diluted community, while taking advantage of a larger employment market for positions that are not directly connected to the value chain of the student. "We are generating new offerings, with new price points and new timeframes to solve new market and employer demands."
Historically, micro-economic and macro-economic threats to higher education have been mild and independent of each other. Mortimer says today's higher ed landscape is moving swiftly into a reality in which both the consumer and external environment challenges are more intense and have converging complexities. "The protections of the industry are being challenged and it will continue to be interesting to see how people inside and outside the academy respond." Collins believes that in the end, to enable people to be the best versions of themselves, they need to feel that they belong, that their contributions are valued, and that they are heard and understood. That is the environment today's universities and colleges must continue to build. Students will look to schools for signs and cues that they are welcome to participate. "Ultimately, you will have the responsibility of creating an environment where everyone can bring their most authentic selves to the workplace," Collins says.