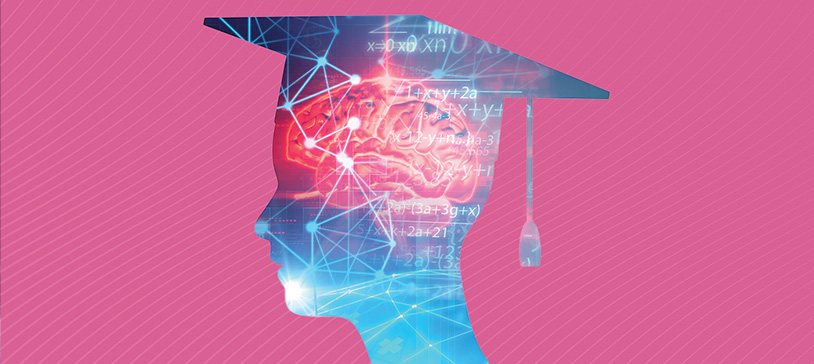 Enabling the future of learning.
Prior to the pandemic, the higher education community employed two basic modalities of learning—face to face (f2f) and online—with very little crossover despite some movements to blended, flipped or hybrid approaches.

Richard G. Fuller, Ph.D., says that through the lockdown, there has been a necessity to embrace amalgamations of f2f, online asynchronous, synchronous, and varying forms of hybrid or combinations to keep things moving forward and meet student needs. The goal is two-fold: Engage students in learning while making sure all are safe and that higher education meets all the safety protocols.

But truth be told, training faculty through professional development departments during the pandemic has been challenging.

When the pandemic first hit, there were three groups of faculty identified: Those who have taught online and knew what to do; those who never taught with technology, but with some training could learn and make the transition; and those who were not very computer savvy and would need more assistance and one-on-one tutoring.

"One of the most interesting things that we have seen is this has moved many faculty forward to try new things," says Fuller, the Director of Instructional Management and Leadership and the Center for Innovative Teaching at Robert Morris University in Pittsburgh. "Many who were resistant to online asynchronous and synchronous modalities have come to see new opportunities for teaching, which in many ways may be better than what they have been doing."

Many universities have employed a variety of hybrid approaches, including increasing cameras and monitors in the classrooms so they can rotate students between online synchronous and face-to-face engagements. Fuller believes this can have long-term positive effects and open up new markets for distance and international students to learn synchronously alongside traditional on-campus learners now and when things return to normal.

"Good teaching is good teaching, and we know that students need to be fully engaged and active in the learning process in any environment," Fuller says. "It is even more important now to engage students and to generate higher levels of interaction. Learning through remote modalities and hybrid approaches creates new opportunities for faculty to create cooperative learning experiences through technology."

Fuller remembers planning his first pandemic-related course this past summer—a new cohort of doctoral students that was supposed to be a traditional on-ground class in an on-ground program. The class was scheduled on a Thursday evening from 6 p.m. to 10 p.m. For years, the class had been taught face to face, so he was a little nervous about teaching it remotely. Sitting in at his dining room table, his first thought was whether his jokes would resonate virtually.

"While I've taught online for many years and traditionally held some synchronous sessions for clarity of assignments and concepts, I'd not really taught an entire class online this way," Fuller says.

Eventually, Fuller perfected the technique, learning to coordinate which files to present on screen and when, how to preset the polling questions, and how to present PowerPoint for instruction and facilitating discussions. He also became adept at watching the chat box for comments and questions. "I think the class went well. It was not what his students had signed up for, but they seemed to embrace the changes."

At about the six-week mark, the students approached Fuller at the beginning of class and wanted to talk to him, not as the instructor, but as the director of the program. He figured the setup was doomed. "They said they really liked this style of teaching and learning, and they would not be adverse to having the entire program set up this way."

While virtual classrooms are not the way anyone had in mind, the pandemic has shifted the learning process beyond what the higher education landscape envisioned. Fuller believes it has opened up new markets for colleges and universities that embrace this concept.

"It creates a new environment that can teach student to adapt and change, and to embrace new ways of doing things," he says. "It teaches and shows them new skills to learning, which will help them in whatever area of work they choose."
New day dawning, for all…
Like many universities, to remain competitive, schools like Georgia State University's Robinson College of Business, New York University's Stern School of Business and Colorado State University's College of Business have stepped into the digital age in a big way.

Each has introduced technologically advanced classrooms that feature high-definition (HD) video screens and HD robotic cameras that follow instructors around the room. The technology is the kind that generates augmented reality and virtual reality experiences, student polling, virtual breakout rooms and digital whiteboards.
Brian Jennings, Associate Dean for Graduate Programs and Executive Education at the J. Mack Robinson College of Business, Georgia State University, says the time is now for higher education to adapt.

"Institutions have a profound responsibility to use this pivotal moment to equip students with the skills and experiences they need for today's rapidly changing business landscape," Jennings says. "As such, the need for immersive learning has never been as important. The pandemic has forced everyone in education to quickly adopt new ways of learning—and the best of that technology allows students to seamlessly interact with instructors, guest speakers and fellow students virtually."

Nearly every faculty member, college and university on the planet has been forced to go online and teach in new ways. This mass exploration of new teaching approaches is unprecedented. For example, the J. Mack Robinson College of Business is committed to using the moment to ensure its programs are accessible to a diverse student body and that its curriculum is responsive to current and future market demands. Its game plan to help reshape the higher education landscape includes:

Providing real opportunities — The ability to provide value in an era of digital transformation is critical. In Robinson's Institute for Insight, the technology and data analytics facility enables students to work side-by-side with professionals to solve vexing business problems by applying analytics, big data, artificial intelligence (AI) and computer science. Students in the Insight Lab apply data science and machine learning principles to provide solutions for Truist, Georgia-Pacific, TSYS Payment Solutions and Dell Technologies, among others.

Delivering interactive experiences to students' location of choice — Some students had shied away from remote learning based on concerns that it is nothing like f2f instruction. To address this hesitancy and provide access to its graduate programs from any location, Robinson recently deployed the most advanced remote learning education platform in the South. Titled Robinson Anywhere, the platform provides high quality access to graduate programs. Whether physically in class or attending virtually, students participate in live dialogue with instructors and classmates, and engage in immersive learning independent of location.

Tailoring approaches — Progressive business schools are offering students the ability to customize their degrees through a focus on interdisciplinary, cutting-edge, in demand skills. Robinson College of Business students can take advantage of emerging interdisciplinary career pathways to specialize in areas like fintech, AI, analytics consulting, commercializing innovation, digital transformation, and more. It also sees schools offering new educational products that support lifelong learning including post-graduate certificates, micro masters and digital badges.

"Our programs were built to challenge students beyond the classroom and offer experiences that bridge the gap between business education and the business world," Jennings says. "As we continue to navigate the future of education offerings as they relate to coronavirus, one thing will remain the same, access to excellent faculty and alumni to prepare students for a future with endless possibilities."

While the current crisis has produced many uncertainties, its impact on higher education will continue to create opportunities for institutions and students to grow and thrive. Collectively, they are in the midst of unprecedented innovation.