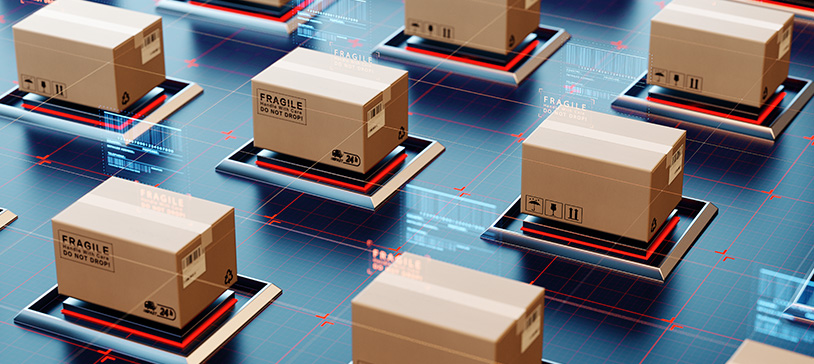 Supply chain best practices
Like many other higher education professionals, during the first part of the pandemic, Aaron Carter was working 13 to 14 hour days. He was on call around the clock, seven days a week, trying to ensure the University of Illinois and its associated medical, dental and veterinary clinics were able to get the essential services they needed to sustain themselves.
It was not uncommon for him to get in his car and deliver personal protective equipment (PPE) to locations around the state. One time, he and his team came precariously close to having to drive to Pennsylvania over the Thanksgiving holiday to pick up 15 freezers needed to house vaccinations for the state.
Time and time again, Carter and his team made it their mission to outwork the supply chain.
"Primarily, when I look at things like supply chain efficiency, I view it as our ability to move through our stable of vendors to acquire the needed goods and services to facilitate the University mission," says Carter, Assistant VP, Procurement Services for the University of Illinois System. "Through the pandemic, we learned that constraints on the supply chain were prevalent and worsening. Our ability to engage our complete roster of vendor partners to acquire high-demand products allowed us to create efficiency in the supply chain."
Today's higher education landscape is an interesting place. Coming out, or almost out, of a global pandemic, higher education professionals have grown accustomed to supply chain constraints. To the surprise of many, Carter included, those constraints continued after the pandemic receded, and then were compounded by greater-than-expected inflationary pressures. There still are many challenges evident in trying to navigate already tightening budgets with the pressures of increased costs around the supply of needed goods and services.
Overall, large challenges persist in acquiring needed goods at a market price in line with university-related needs and timing. As the supply chain starts to offer more in terms of availability, it has not happened quickly enough to alleviate the increase in pricing. Being reactionary to unexpected needs is causing many universities to pay a premium—whether they agree with the proposition or not.
"Watching the higher education landscape navigate this in the coming years will be most interesting," Carter admits. "I think the likely outcome will naturally be a growing success for larger institutions that are positioned to weather continued strain on the supply chain and lingering impacts of inflationary pressures."
Carter believes that supply chain deficiencies have stunted the higher education landscape's progress in some areas. "It's only natural that a delay in available goods to move projects to completion will have a negative impact on overall project timelines. I think a secondary impact has been our ability or willingness to innovate internally. Where we have had the expertise and staffing ability, we have created and supplied project needs internally. I think at the university and equally, at some of our friends and peers around the country, we have always had the knowledge necessary to accomplish anything; it is more of the balance of make versus buy, and where are the best uses of our resources and talents."
Technology, staffing and the plight for goods
Despite the fact there still is room for improvement, Prakash Mirchandani says today's supply chains are much stronger than they were 10-15 years ago. Today, supply chains are able to deliver simultaneously along multiple dimensions such as cost and responsiveness.
Mirchandani, Professor of Business Administration at the Executive MBA Program at the Joseph M. Katz Graduate School (University of Pittsburgh), recalls the story of a product he ordered a few years ago from a major electronic manufacturer. The product was customized and delivered to him from an overseas location in less than 48 hours. There were no additional costs to expedite the delivery.
Today, Mirchandani says such functionalities are commonplace, as supply chains are achieving this by developing advanced human resource, technological, process and structural capabilities. "Modern supply chains rely excessively on technology. Some of the applications—such as QR code or RFID-based inventory tracking, sales-and-operations planning software and containerized transportation—are more traditional. But others are new—using machine learning to improve forecasting, or utilizing AI-assisted smart contracts to lower costs and enhance contract implementation. These varied technologies, applied at the various supply chain stages, are helping lower costs and improve responsiveness of the supply chains."
The human factor is another element that can help build and sustain supply chain efficiencies. Staffing needs change both in terms of the expertise needed for different categories of items and in terms of the supply chain stage. For example, at a university, supply chain expertise may be needed in technology items on one day and lab supplies on another. Or, expertise may be needed in procurement on one day and transportation on a different day. While it is quite difficult to do, universities can address supply chain needs by developing employees who are cross-trained and creating a culture of continuous improvement.
In the end, Mirchandani believes that establishing trust in all dealings with your suppliers is essential for developing and maintaining a lasting relationship with suppliers. "Even though there always are economic differences during negotiations with a supplier, and conflicting situations can also arise later, a sense of fairness and honest discussions can help in engendering trust and a mutually beneficial relationship."
Carter says that being open and honest, especially considering the challenges of the past three years, has gone a long way toward creating lasting relationships between universities and suppliers. "The other side of that coin is a university's same ability, to be honest. Providing information about historical trends in needs/spend can assist the supplier in properly preparing to service the account. Sharing competitive details, like the number of vendors we engage with routinely, can avoid unrealistic expectations." Overall, a healthy relationship is easy to maintain if it is built on honesty and trust. And while disagreements will arise, working together and being honest will allow the relationship to endure, even amid such tumultuous times.